PAN Card App
---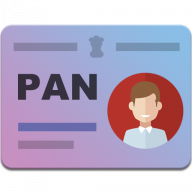 SEARCH and SAVE your PAN card details. VERIFY PAN details by entering the number or SCAN QR code on new PAN cards.
APPLY for new PAN card. TRACK STATUS of application (track both NSDL & UTI TSL)
✔ Search PAN Number
Enter PAN number to search Name, DOB and Father's name.
✔ Scan PAN QR Code
Scan QR Code on New PAN Cards to verify details.
✔ Save PAN Card
Store all the searched or scanned PAN Cards for future use.
✔ Information & Help on PAN
Get all the FAQ's answers here.
✔ Apply For new PAN Card
Apply online from phone in just a few minutes
✔ Track PAN Application
Can Track both NSDL & UTI ITSL Application with Acknowledgement number.
For more about PAN Card App click here.
Screenshots